Adopters, Tell Us About Yourself...

In order to best place our cats with adopters like yourself, we need to know more about you and the home that your adding cats to. Please fill out our "Adoption Questionnaire" and return to us. While you can just come to our adoption event and fill out a questionnaire at the event, it is two pages of questions and can take 5-10 minutes to complete. Completing and returning these questions now will get you and your home prequalified to take home any cats you want from our adoption event. Once "prequalified", you can make appointments to meet/adopt cats before everyone else sees them at our big public "Adoption Events."

This is not a web form, but you can complete the Adobe Acrobat PDF form and e-mail back, or print/fax/mail, for example. Link to the form below....

After clicking PDF link below, and filling the form, save the file. If in the Acrobat, web-browser plug-in click the floppy disk icon (see screen shot below) in the top left of the frame ("File->Save As" pull down will not work. You need to save the file to email back to us.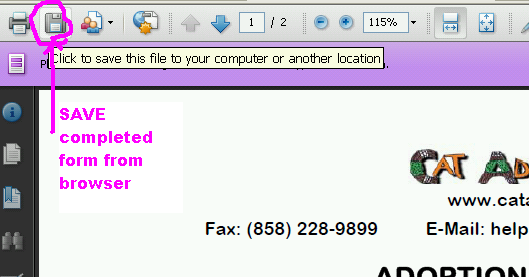 After filling out this two-page questionnaire, e-mail to us or print and fax to the number on the form.
Click here for the Acrobat PDF version of the form
If you have any technical difficulty with completing this form, do not hesitate to contact us by e-mail.
---